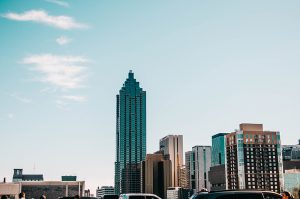 Atlanta is known internationally for many things: Coca-Cola, the Atlanta Braves, Southern hospitality, and incredible music, but over the last couple of decades The City in a Forest has established a reputation in an entirely different area: as a globally renowned tech hub and the data center location of choice for thousands of businesses.
We'd like to look at some of the reasons businesses choose an Atlanta data center for colocation, and why we chose Atlanta for our data center and headquarters.
Why Our Atlanta Data Center Is Right For Your Company
Atlanta is a major technology hub, with world-class connectivity to the US, Europe, and the rest of the world, making it the perfect location for hosting websites and applications, eCommerce stores, and your business's critical IT operations.
Technology and Connectivity
The number one concern of colocation clients is bandwidth and low-latency network connectivity. Atlanta is one of the US's most important network hubs: every major US and international bandwidth provider has a presence in the city because it acts as a national peering and interconnection point.
Two of the nation's most important fiber trunk lines intersect in Atlanta and the city offers connectivity through over 500,000 fiber optic lines.
The Atlanta Internet Exchange is a major peering point for ISPs and other network providers.
Because of the city's status as one of the most important bandwidth hubs in the US, Atlanta data centers are unrivaled in their ability to provide low-latency connectivity throughout the US and the world, offering optimized routes to all major markets.
If your business chooses to host its hardware in an Atlanta data center, latency won't be a problem.
Low-Cost Power
After network connectivity, power is the most important factor in determining the best place to colocate IT infrastructure.
Georgia provides some of the lowest-cost electricity in the US. According to the US Energy Information Administration, energy prices for the industrial and commercial sectors are substantially below the national average.
For many infrastructure deployments, the cost of power to run and cool each server can rival the cost of the hardware over its operational life, so choosing a location that offers low-cost electricity to power servers and networking hardware should be top-of-mind when deciding where to colocate.
Stable Environment
Long-term stability is a priority for companies seeking to colocate high-value infrastructure. Atlanta is both seismically and climatically stable relative to the rest of the continental United States: the chances of your servers or network connectivity being wiped out by an earthquake or flood are vanishingly small.
Georgia is occasionally hit by tornados, but the risk in Atlanta is minimal and tornados have no significant impact on infrastructure hosting. Compared to other large metropolitan areas in the SouthEastern United States, including those in Florida and other states bordering Georgia, Atlanta is a safe bet.
Data center operators choose Atlanta because they know it offers rock-solid stability and minimal environmental risk to their investment.
A Booming Tech Economy And Deep Talent Pool
Atlanta is at the center of a booming tech economy. There are over 17,000 technology companies in the area. Georgia is the 5th largest IT employment cluster in the US.
Georgia also has some of the best-regarded educational institutions in the technical space, including Georgia Institute of Technology and Georgia State University.
Tech companies — like Cyber Wurx — base themselves in Atlanta because it has excellent bandwidth and connectivity, but also because it provides a deep pool of technical expertise for us to draw on.
These are the reasons Cyber Wurx chose to build its world-class data center and headquarters in Atlanta.
The CyberWurx Atlanta Data Center
Our data center is located in the heart of Atlanta's internet exchange district. We take full advantage of the excellent bandwidth options available to provide our clients with unbeatable bandwidth options and low-latency redundant connectivity.
Network
Our network provides fully meshed redundant connections with 10-gigabit capacity to multiple BGP optimized peers. We have fiber-run access to multiple nearby facilities and carriers. Network engineers are available on-site to consult with clients about how they can best take advantage of the connectivity on offer.
Power
Power is provided by multiple service feeds to major power providers, backed by on-site generated power in case of grid failures.
Security
Cyber Wurx takes security extremely seriously, and our clients benefit from a state-of-the-art security system that includes round-the-clock on-site physical and electronic security. Access to the building and the data center facility requires keycard authentication and all access is logged. The facility offers comprehensive monitored CCTV coverage with 90-day retention of video logs.
Location
Because our data center is located in the heart of downtown Atlanta, it's easily accessible to residents of the Atlanta Metro area and further afield via Atlanta's international airport.
Businesses that choose to colocate in Atlanta with Cyber Wurx will be able to quickly access their hardware regardless of the location of their business.
Why Cyber Wurx In Atlanta?
We have the expertise, experience, and technology to provide a world-class data center experience to companies that recognize the benefits of outsourcing data center construction and management while maintaining control of the hardware they rely on.
In 2017, it rarely makes sense for businesses to build and manage a data center. By outsourcing data center management to Cyber Wurx, clients take full advantage of our Atlanta data center and Atlanta's superb fiber optic infrastructure. We provide the bandwidth, the power, and a secure hosting environment; clients focus on growing their business.
Cyber Wurx has been a trusted colocation partner of businesses ranging from early-stage startups to the largest enterprise organizations for two decades. Our deep expertise, state-of-the-art data center, and Atlanta location make Cyber Wurx the perfect solution for any business seeking world-class colocation facilities.