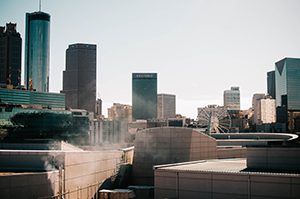 The specifications of a dedicated server determine its capabilities. There is a huge difference between a low-end dedicated server and the most powerful servers on the market. For the best server hosting experience, dedicated server users should be careful to match server specifications to the resource needs of their application.

But comparison shopping with a single-minded focus on getting the "best" specs for the smallest amount of money isn't the most effective way to choose a server. A server is one part of a complex machine that includes the data center and the team who run it. There are many factors beyond the components that live inside a server's casing that affect the behavior, reliability, and usefulness of a server.
The greatest server in the world won't do much for your business if you can't rely on it — and you can only rely on your server if it's looked after by an experienced team and located in a world-class data center.
If specifications and cost don't tell the whole story, what else should you be looking for?
Connectivity
A server is worthless if you can't depend on its connection to the internet. This is partly why choosing the right data center is so important. A good data center will have multiple high-bandwidth redundant connections to trusted bandwidth providers.
Location matters because the largest bandwidth providers tend to cluster in specific areas. Our data center is located in the heart of Atlanta's internet exchange district, which is one of the best connected locations in the US.
Support
If you've been using hosted servers for a while, you'll have no doubt experienced the frustration of being unable to get in touch with the hosting provider's support department just when you need them the most. Some dedicated server vendors — even those that boast round-the-clock support — can't be relied on.
Make sure you choose a dedicated server host that takes support seriously.
Power Redundancy
Clearly, a server isn't much use without power, and making sure power is always available isn't as easy as it might sound. Just as with connectivity, a good data center will have redundant links to power suppliers so that in the event of technical problems with one provider, the others can take over.
Sometimes — during natural disasters, for example — even redundant connectivity isn't good enough. When choosing a dedicated server provider, check out their on-site power generation capabilities. Decent data centers have on-site generators with stored fuel capable of powering the data center until mains power can be restored.
Connectivity, support, and power redundancy are just three of the features that distinguish trustworthy data centers. Others include:
Physical and electronic security.
Redundant cooling capacity.
Security and privacy certifications.
The most important difference between dedicated server providers is the people who manage the data center and your server. Be sure to check out reviews and talk to current clients before making a choice.